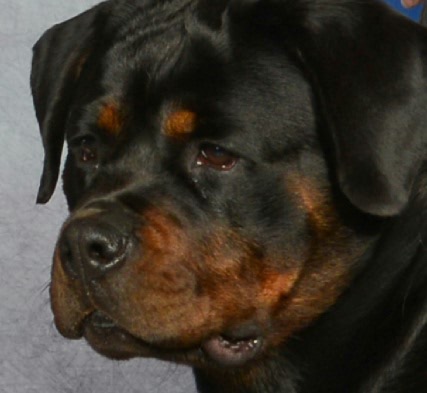 "ISSY"  
TEMPERMENT TESTED
CANINE GOOD NEIGHBOUR CERTIFICATE
Sire: CH BATISTA VON VINSEAU (USA) 1116894
Dam: CH BOURBON VOM PRACHTIG CGN ZW505849
    Achievements:  CORK (Central Ontario Rottweiler Klub) Sieger Show
  Rating: V4  Under Judge Rudiger Schmidt Vice President of ADRK
    Junior Class 1 (9-15 months)
Issy is retired and "living the life" in the best home, with the most wonderful people I could ever wish for her.
I bought Issy when she was a year old, from someone that I thought was a reputable breeder. She came from Reimer's Registered Rottweiler's in Ontario. When we got her home to our acreage she came busting out of her kennel and ran around looking for a place to hide. Her actions were very similar to a feral dog. It took me 2 weeks to get her to come out of her shell, somewhat. I worked on her to build her trust over time. She became a wonderful, happy, goofy girl, who is everyone's favorite.  After having her hips x-rayed I decided she was not a dog that would fit into my breeding program. It was a very difficult decision but I decided to rehome her and found the most amazing home and most amazing people.
The breeder I purchased Issy from is Cris L Reimer. Cris resides in St Catherine's, Ontario. I thought I did everything right when buying a CKC Registered dog, asked all the right questions, requested video's and picture's of Issy but I trusted the Breeder too much and believed what she told me about Issy.  Proof was provided on certain health clearances but too many lies in between. I wanted to have a prelim on her hips and she said it was way too expensive and would cost me $1000 or more. I later found out it would have been about $300-$400. She said if there were any issues, we have an agreement and she would be replaced with a show quality pup.
I thought we had an ironclad agreement but have found out since, from CKC (Canadian Kennel Club) that when there are issues with the seller, seller's agreement and dog purchased, it becomes a civil suit, CKC will do nothing about it. This is a violation of the Animal Pedigree Act and will be dealt with by the local police or RCMP.
According to the CKC, the circumstances I have described are all too familiar to their organization. The CKC is the primary registry body for purebred dogs in Canada. Their mandate under The Animal Pedigree Act is to register purebred dogs, maintain pedigree records, and sanction official Canadian Kennel Club shows, trials and other events, that's all they do. According to CKC they do not license kennels or breeders in Canada. When a breeder registers their kennel name with CKC they are issued a certificate of registration for the kennel name, NOT THE KENNEL, it is only the kennel name they are registering. There seems to be alot of confusion over this.
I have spoken to numerous people that are of the understanding that if they buy from a breeder that is CKC registered, that they are getting a dog that will have no health issues. That is so far from the truth. Or people will find an awesome website that looks like the breeder has top notch dogs, this also, is not true.
Too many people get taken advantage of buying puppies from irresponsible breeder's.  I spent alot of money purchasing Issy, showing her, boarding etc. but, it is not about the money it is about ethics. How a person can sell you a dog and continue to lie to you about a replacement, ignore your calls, texts, emails and then disappear, is beyond me. When I go to sleep at night I have a clear conscience and know that I am an honest person.
Cris Reimer shows her dogs, and likes to run with the big boys, as she has put it, but eventually people will catch on, as to what she is all about and will not want to be associated with her.
"REPUTABLE" meaning:  well thought of, highly regarded, respected, well respected, respectable, of good repute, prestigious, established, reliable, trustworthy     This is what you should be looking for to start when buying your next puppy.
Thank you,
Ann